The 2020 pandemic had a huge impact on global economies and consumer behavior. As many companies struggled to stay in business, others flourished by quickly adapting to the new normal by embracing advanced technology and digital transformation solutions. With the exponential growth of the online business and mobile usage among consumers, businesses need to adjust their marketing strategy to be where their customers are. One of the key components for updating old marketing tactics is investing in mobile app development services.
Benefits Of Mobile App Development For Business
There are over 3 billion smartphone users all over the world, and a large percentage of these people rely on mobile apps and online stores to shop, find various services, order food, and more. Mobile apps are a great way to reach these users and have become a common business tool with numerous benefits for the business. Effective and user-friendly mobile and web apps allow businesses to engage in and improve direct communication with their customers and clients, improve customer engagement and user experience, increase brand awareness, and also serve as a useful marketing channel allowing businesses to get ahead of their competitors.
According to statistics, over 62% of businesses already have an app or are in the process of creating one. Mobile apps can help businesses increase their sales by as much as 42% and improve customer service by as much as 36%.
Roadmap For Creating The Perfect App For Your Business
While we have established the importance of having a mobile or web app for any business, the question remains as to how you can create the perfect app that aligns with your business goals, attracts more customers, is user-friendly, and will ensure the success of your business.
Here is a concise roadmap to help you take your app from a tentative idea to creating it, launching it, and turning it into a successful venture:
Define Your Business Needs
The first step to creating an app for any business or company is to define your business needs. Not having a proper strategy before the mobile app development process is akin to building a house without blueprints. It will eventually end up as a mess that offers no benefits and does not meet your end goals and needs. Every successful app in the world has a unique and clearly defined purpose. YouTube allows users to watch and upload videos all the time. Facebook is a global social networking app that allows you to connect and interact with people anywhere in the world. Zoom Cloud Meetings app helps people working from home to have meetings and connect with their co-workers.
Outline what you want to achieve with this app before you move forward with the development phase. Is the purpose of your business app to increase sales? Create brand recognition? Help people complete various tasks such as do their banking online, shop, or order food online? Make sure you have a clear idea, and then build the rest of the mobile app development strategy around those goals.
Do Your Research
There are over five million mobile apps available between Google Play Store and the Apple App Store, and only around 0.1% of these apps are successful. The main reason is that most apps don't offer anything new and are usually a duplicate of an existing idea. You need to offer an app that offers unique solutions to real problems faced by people and has original concepts along with a good user interface and eye-catching visuals to make sure it stands out from your competitors.
However, just because a similar app that has the same basic idea as yours exists on the store does not mean that you should discard your app idea. Do the research to figure out how you can offer a better solution by identifying the strengths and weaknesses of your competitor's app.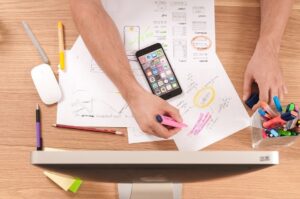 Choose The Right Team For Your Mobile App Development
The next step is one of the most important aspects of building your business app. Once you have a viable mobile app development strategy in place, you need to choose the right people to help you create the perfect app. There are three different options you can choose from; hiring in-house app developers, hiring freelancers, or a company that offers professional mobile app development services.
Hiring in-house developers can be a time-consuming process as your build a team. It also requires a considerable number of resources and can set you behind schedule and behind your competitors. Similarly, hiring freelancers can offer you flexibility and can cost less, but there is a huge risk of not finding the right people for the job and not getting the job done on time.
Successful digital transformation and marketing experts recommend giving the task to a third party that offers professional mobile app development services. Most mobile and web app development companies such as Acceltor Solutions offer end-to-end mobile app development services and help you every step of the way from coming up with the initial unique idea for your app till it is launched on your chosen platform. They also have numerous people working for them with diverse skills and extensive experience creating and launching mobile apps for various businesses from all kinds of industries.
Deploy, Market, And Monitor Your App
The final step is to deploy your new app on the platform where it will get the most exposure. It is important to have a successful marketing strategy that will help your business stand out from the millions of apps that are already available on the app store.  Use various platforms for marketing your app before its launch, such as your website, social media platforms, etc. Give useful information about your app in a fun and informative way and optimize your website and app to help your target audience discover it easily. Don't forget to monitor the performance of your app and make necessary adjustments to fix any bugs and keep updating the interface and options.
Comprehensive Mobile App Development Services From Acceltor Solutions
Get in touch with our team of experienced digital experts to learn more about our exceptional mobile app development services and other digital transformation services to ensure the success of your business!